Performing better is the best solution! 

PurAthlete POWER+ is an intelligent supplement, formulated to help you get stronger and perform better.

Using the patented bonded chelate Magnesium and Creatine, POWER+ offers almost immediate absorption allowing you to build strength and power. 


You will experience less cramping, less fatigue, and higher energy level the first time you use POWER+.

Train Harder! Perform Better! Recover Faster!

PurAthlete POWER+ was developed based on the theory that creating and maintaining the highest level of cellular hydration during exercise and competition will improve the body's tolerance to physical exertion, high heat, and muscle fatigue.

Getting the right combination of minerals and nutrients to muscles is only
half the issue. The rate and efficiency of absorption is crucial to maintaining
balanced cellular performance.

Increase Your Strength and Your Performance.

PurAthlete POWER+ creates Real-Time BioAvailability™, which means
your muscle cells are getting more of the substances they need at a faster rate. This process maintains optimal hydration and muscle performance for longer periods of time, extending your workouts, and improving your performance.

Supports energy metabolism
Increased anaerobic threshold
Increase strength and power
Enhances protein synthesis
Restores depleted magnesium levels
Free of banned substances, gluten, and diuretics

 PurAthlete Utilizes Proven Science Focused On Maximizing Your Performance

PurAthlete Is Manufactured To Exacting Standards Using The Highest Quality Ingredients. PurAthlete is a Gold Medallion Customer of Albion Minerals, an industry innovator in the development, patenting, and manufacture of the highest grade chelated minerals available today.
FOR HIGH PERFORMANCE ATHLETES
QUALITY SPORTS SAFE INGREDIENTS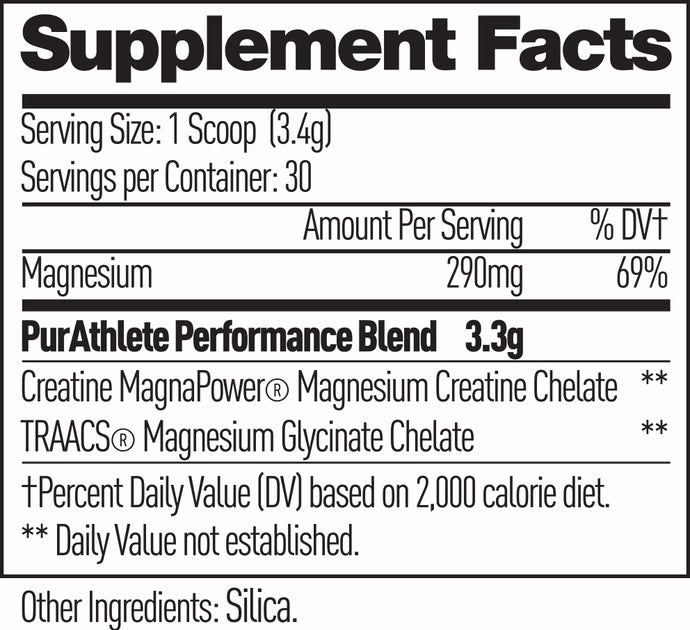 Intelligently Formulated
Experience the full spectrum of benefits from all PurAthlete performance nutrition supplements!
PurAthlete's performance nutrition supplements are just that -- supplements.  They are not a substitute for a nutritious diet, an effective training regime, knowledgeable coaching, and the proper mental/emotional mindset for competition. With those elements in place, PurAthlete can provide you with a competitive advantage!
For maximum results combine PurAthlete Power+ with PurAthlete Endurance and PureAthlete Regenerate+
Be Better Tomorrow With Rapid,
Effective Recovery

.
Usage

How to Use PurAthlete POWER+: Mix one scoop (3.3g) of PurAthlete Power+ in 6-10 oz. of water or other fluid. Mix well.
Frequency

Your Training Regimen Is Important .Higher training frequencies require more advanced supplement support.

For one workout per day use 1 serving pre-workout
For advanced training use 1 serving in the morning and 1 serving pre-workout

For optimal performance add prescribed amounts of PurAthlete POWER+ and PurAthlete REGENERATE+ with a standard serving PurAthlete ENDURANCE, once a day.
Ingredients

TRAACS® Magnesium Bisglycinate Chelate, Creatine MagnaPower® (Bonded Magnesium Chelate and Creatine).
Allergens

Manufactured on equipment that processes products containing milk, eggs, soy - beans, wheat, shellfish, fish oil, tree nuts and peanut flavor.